Cheshire & Merseyside Baby Week 2021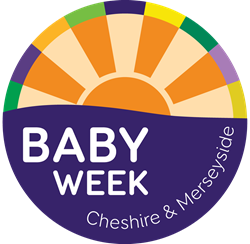 What's it all about?
Baby Week brings together cross-sector organisations, families and caregivers to promote the importance of women's health and giving all our babies the best possible start in life.
It is a collaborative platform, designed to highlight health inequalities where they start, in the womb and in the early years; dedicated to finding solutions together; brought to you by the NHS
Cheshire and Merseyside Women's Health and Maternity (WHAM) network formerly the Women and Children's Partnership (Improving Me) in collaboration with Baby Week Bradford and Leeds.
Designed to
Share
Engage
Entertain and
Inform
Designed for
The health care workforce, as well as women, other carers and their families.
Baby Week brings together cross-sector organisations and it's a great opportunity for organisations working with women, babies and their families and caregivers to come together
and learn from each other (includes a women's health agenda, preconception, pregnancy and beyond). It's a chance to be hands on, as well as the first to learn about the latest research,
policy and practice development. It's also a platform for you to showcase your work, highlight the services you provide and extend your reach.
What's on?
Get involved!
To find out more information or to get involved with the week, please email Jo at info@improvingme.org.uk. 
Follow us on social media Twitter and Facebook.
Follow our event hashtag: #BabyWeekCM21
Join the Baby Week conversation with Parents 1st
This year, during Baby Week Cheshire and Merseyside 2021, Parents 1st UK invites parents, volunteers and healthcare practitioners to share their experiences of how peer support during pregnancy, birth and beyond has helped them. They want to shine a light on the great work going on in and around Cheshire and Merseyside and help other parents to be inspired to seek and offer support.
We all know that quality peer support makes a unique and hugely valuable contribution to supporting parent-infant relationships. It empowers and nurtures the confidence of parents to develop their resilience, knowledge and skills to give their babies the best possible start. It can also be an enriching and often life changing experience for volunteer peer supporters.
If peer support has helped you, or someone you know, please join the conversation and share the difference it's made. We want more parents to benefit from the support it can provide.