Cheshire and Merseyside BAME Women Maternity Network - Discussion & Q&A Webinar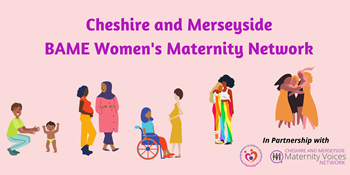 Cheshire and Merseyside BAME Women Maternity Network
Discussion & Q&A Webinar
Tuesday 15th September 2020
12pm - 2pm 
To book your place - click here
The Cheshire and Merseyside BAME Women's Maternity Network is a collection of local community organisations, charities, families and healthcare professionals all coming together to work collaboratively to increase maternal healthcare equity for Black, Asian and Minority Ethnic pregnant women and families.
Following on from the virtual COVID-19 re-launch, we will be hosting an interactive webinar on Tuesday 15th September 2020 around some of the key themes highlighted from the initial online workshop.
We will be exploring:
Cultural Competence and have an opportunity to collaborate with local academics to curate a training offer
Coaching and Intercultural Competency at a system level
Q & A discussion session 
The network is always seeking new people to help inform, steer and prioritise. To find out more about how you can get involved please get in touch.