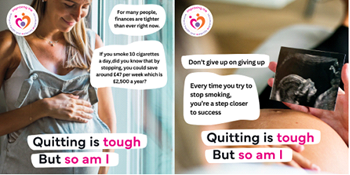 The Smoking in Pregnancy Project team was formed in February 2022 and received initial funding from Cheshire & Merseyside Cancer Alliance (CMCA) to increase the quit rates of women smoking in pregnancy and at birth within Cheshire and Merseyside, through the development of smokefree pregnancy pathways and interventions co-produced with women.  The project team consists of several specialist staff to uphold a collaborative approach and provide project management, clinical leadership, maternity expertise, and community engagement support.
The team have been working with a number of stakeholders to achieve the following outcomes:
Ensure a consistent approach across Cheshire & Merseyside to reduce the number of women smoking in pregnancy and at birth
Upskilling the maternity and health and social care workforce to ensure they can provide support to women and their families
Engage with women and families to understand barriers that may prevent quit attempts
Develop a peer support model with those who have lived experience of tobacco dependency
Create a regional communications campaign
To ensure care is personalised and this approach is embedded within smokefree pathways
The NHS is investing in frontline services to tackle tobacco dependency and new in-house models are being implemented within maternity provider settings across Cheshire and Merseyside. Support to treat tobacco dependence will be routinely offered by specially trained staff working within maternity services and care plans will be developed to suit individual needs.
For more information, please visit www.iamtough.co.uk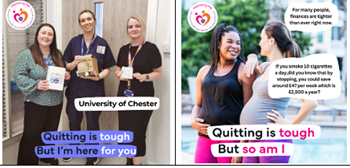 Social Media
Please also find attached static social posts for you to use, to help expand the reach of the SiP social media campaign across our communities within Cheshire and Merseyside. 
Facebook: https://www.facebook.com/profile.php?id=100088955744800
Instagram: https://www.instagram.com/iamtough_sip/?igshid=YmMyMTA2M2Y%3D 
Microsite
Our new campaign website can also be accessed here:  https://www.iamtough.co.uk/
Comms assets
A link to the campaign assets can be accessed via: https://drive.google.com/drive/folders/1LhRc5Y7eUW52L5Sv7m24MAvMeNc3bQXE?usp=sharing: with the following assets included:
Information resource for professionals – this has been developed as a banner pen resource for professionals, but can also be printed
4x Posters – each of which has a different message
Information leaflet for women, partners and significant others – this has been produced as a four sided wallet sized information card (updated to include Health Visitors)
Information resource for partner, family member or significant other – to help support a parent-to-be
Quit Chart – this has been produced as a wipeable resource for pregnant women who smoke, but can also be printed (updated to include Health Visitors)