Breastfeeding Peer Support Training in Cheshire & Merseyside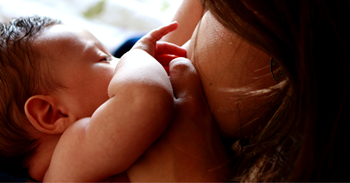 Breastfeeding has multiple health benefits for both mother and baby, from reducing the risk of SIDS (Sudden Infant Death Syndrome) to lowering the mother's risk of breast cancer and cardiovascular disease.
Unfortunately, many women find themselves in an environment that discourages them from breastfeeding. We believe that by giving women positive support from their peers, we can encourage more women to breastfeed and give their child the healthiest start to life possible.
What is Breastfeeding Peer Support?
Breastfeeding Peer Support helps to encourage and empower women to breastfeed. By introducing new mothers to other women who have breastfed themselves and received training, they can receive positive support and guidance. Peer support is recommended by the World Health Organisation and forms part of UK NICE guidance on maternal and child nutrition and on routine postnatal care.
Improving Me is proud to be supporting Breastfeeding Peer Support Training offered by The Cheshire and Merseyside Women's and Children's Services Partnership.
Why do Breastfeeding Peer Supporter Training?
If you're passionate about breastfeeding, have had a positive experience with it or want to support other families in your area - being a Breastfeeding Peer Supporter is a great way to share your knowledge and have a positive impact on babies' lives. 
Become a Breastfeeding Peer Supporter
The Breastfeeding Network (BfN) is offering free Breastfeeding Peer Supporter Training for women in Cheshire and Merseyside. The course is accredited by the Open College Network and all training materials will be provided. The course takes around 3 - 4 months to complete and will be at BfN "Helper" level. Each course will be held exclusively online via Zoom. We will be using our online learning forums for group work and collaboration. 
The first course will run from the 26th of November, with more dates to be announced in January, March, April and July 2021. 
Trainees for the first course will meet in two cohorts - Thursdays at 6.30pm or Fridays at 12.30pm on a fortnightly basis. The introductory Zoom call for all volunteers will take place on Thursday the 26th of November at 6.30pm with the first accredited sessions on Thursday the 3rd or Friday the 4th of December.
If you're interested in becoming a Breastfeeding Peer Supporter or have any questions about the course, please contact our team at info@improvingme.org.uk.