How to quit smoking while pregnant - E-cigs, NRT and support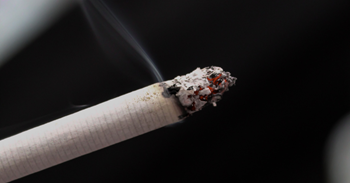 Quitting smoking at any time in your life can be challenging, and trying to quit while pregnant can be especially stressful.
To give your baby the healthiest start to life possible, it is recommended that you quit smoking as soon as you can - but stopping at any point in your pregnancy is beneficial. It is also important that you are not exposed to second-hand smoke during pregnancy - If anyone in your household smokes, they can also access support to quit.
Smoking during pregnancy increases the risk of:
Low birthweight

Heart defects

Stillbirth

Pre-term birth

Miscarriage

Sudden Infant Death
In this blog, we share some of the most helpful methods for quitting smoking while pregnant. Bear in mind that the most suitable treatment for you will depend on your age, whether you're pregnant or breastfeeding and any medical conditions you may have. Please speak to your GP, midwife, or NHS stop smoking advisor for advice when selecting a treatment option.
Nicotine Replacement Therapy (NRT) 
NRT is one of the safest methods to help you quit smoking during pregnancy. Nicotine is highly addictive and is what causes strong cravings to smoke while you are in the process of quitting. Absorbing small amounts of nicotine through NRT can help to curb your cravings.
NRT comes in a variety of different forms, including:
Patches

Nicotine chewing gum

Tablets, strips and lozenges

Inhalators
You access NRT in pharmacies, shops and through a prescription from your GP or your local stop smoking service.
NRT can also be used by breastfeeding women - you should seek advice from your GP or stop smoking advisor.
E-cigarettes
While they are not completely risk-free, e-cigarettes (vapes) are much safer for you and your baby than traditional cigarettes.
E-cigarettes contain some potentially harmful chemicals, but they do not produce carbon monoxide or tar - which are the most dangerous elements of tobacco smoke for you and your baby. If you find that using an e-cigarette is preventing you from smoking tobacco cigarettes, you should carry on using your e-cigarette throughout pregnancy and once your baby is born.
There is a lack of research around e-cigarettes and SIDS, so we do not recommend using e-cigarettes while bed-sharing with your baby.
When using E-cigarettes, make sure to keep them (as well as e-liquids) out of reach of children to avoid poisoning. It's also important to use the correct charger for your e-cigarette.
Pre-pregnancy planning
If you're planning a pregnancy, it will be easier for you long-term if you quit smoking before you get pregnant. Not only will quitting smoking improve the health of you and your future baby, it will also benefit your fertility. 
Tommy's Planning For Pregnancy tool can be useful in helping you to figure out what steps you need to take to plan a healthy pregnancy.
Seeking support
It's important to know that there is judgement-free support out there to help you quit smoking before, during or after pregnancy. 
As well as reaching out to your GP, midwife or NHS stop smoking advisor, there are several helpful resources that can help you quit, including:
NHS Smoke Free App - An app that allows you to track your progress, see how much money you're saving and get daily support.
NHS Smoke Free Helpline - Call 0800 022 4 332 (7am to 11pm daily) to speak to someone about quitting smoking.
One You - Personal quit plan - A free plan that allows you to figure out the best steps to take to quit smoking.
Find your local stop smoking service - Enter your postcode to find your nearest stop smoking service.
Help us to understand your relationship with smoking
If you have smoked while pregnant during the current COVID-19 pandemic, we'd really appreciate it if you could spare 5 minutes to fill out a short survey.
Need further advice?
The Improving Me team is here to help you navigate before, during and after your pregnancy. If you have any questions about quitting smoking while pregnant or would like support, you can reach out to us by emailing info@improvingme.org.uk, calling 0151 295 3499 or filling out our contact form.