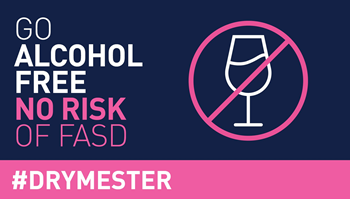 What is #DRYMESTER?
For generations, we've been given mixed messages about whether there is a safe time or amount of alcohol to drink during pregnancy. However, the facts themselves are quite clear.
The Chief Medical Officers for the UK advise that if you're pregnant or planning a pregnancy, the safest approach is not to drink alcohol at all, as this can lead to long-term harm to your baby. The more you drink, the greater the risk.
#DRYMESTER is a campaign supported by Cheshire and Merseyside Women's and Children's Services Partnership. It aims to spread this correct guidance about the risks of drinking alcohol during pregnancy and help thousands of Greater Manchester parents-to-be go alcohol free.
The #DRYMESTER campaign is appealing to future parents, and their families and friends, to sign up and help spread the word that there's no safe time, and no safe amount of alcohol, to drink during pregnancy.
We're also encouraging partners, families and friends to go alcohol free too, for either some or all the pregnancy. This kind of solidarity can really make a difference.
#DRYMESTER has created a variety of materials to help those who want to join and spread the word. Sign Up now and access free and helpful tips and resources for parents-to-be, as well as all #DRYMESTER resources to help support the campaign.
If you're worried about your drinking and think you might need help going alcohol free, contact your midwife of GP for advice. If you've become physically dependent, stopping drinking without support could be harmful.