Women's Health Matters - Now is the time! Help us to improve women's healthcare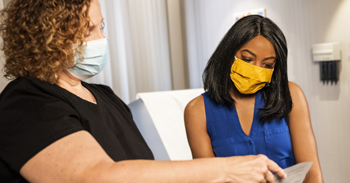 For a long time, it has been felt that women's health has not been given the attention and care it deserves. Many women have reported feeling dismissed by healthcare professionals - particularly for reproductive health conditions like endometriosis and PCOS (Polycystic Ovary Syndrome). The 'gender health gap' is having a huge impact on women, in their workplaces and personal lives. This could be due to many factors and may include poor pain management care and fear of mental health repercussions. 
Our Women's Health Matters campaign
We believe that every woman has the right to experience safe, compassionate, quality healthcare. 
We are running a social media campaign across our Twitter, Instagram and Facebook to spread awareness of women's health issues and their experiences with healthcare in the UK. We've put together a short survey to gather women's experiences so we can officially respond to the government's Women's Health Strategy, as well as use the responses to inform future healthcare services across Cheshire and Merseyside. 
Have you ever felt dismissed by your doctor regarding a female health condition?

We want to hear about your experiences with #womenshealthcare in the UK.

Fill out our short survey: https://t.co/lGPh2DfmMh #WomensHealthMatters@LiverpoolWomens @TheWomensOrg @Mersey_Care pic.twitter.com/J6HdjWORug

— Improving Me (@Improvingme1) July 16, 2021
Want to share your story with us? Help us out by filling out our survey.
Women's healthcare experiences in the UK 
So far, we've heard from several women about their experiences with healthcare. We wanted to anonymously share some quotes from different women to show how much women's healthcare needs to change.
Menopause
'I was so irritable, crying one minute, angry the next, never happy or just ok! It went on and on, my male GP just simply didn't understand, we need more knowledgeable people out there, we need menopause guru's to support women's health.'
Endometriosis
'After 9 years of being dismissed by various GPs, I finally had a diagnosis and laparoscopic excision of endometriosis. The post-op care wasn't the best, as I had to wait 14 weeks for a follow-up call that wasn't with my actual surgeon. If I hadn't complained multiple times, I'm sure it would've been longer!'
Thyroid disease
'I had autoimmune thyroid disease for around 15 years and was dismissed by my GP. I ended up loaning money to go private (while working in a charity and raising a daughter alone, so I forgot any type of social life or holidays to pay back the loan). Once I had gone private and started paying for t3 medication from abroad (with the knowledge of my GP and all above board), I was finally taken seriously.'
Hysteroscopy surgery 
'When having a hysteroscopy the surgeon was not listening to me when I said that my uterus was very tilted which may cause difficulties - she was busy ticking boxes on the computer and not looking at me or taking note of what I had said. She performed the hysteroscopy and managed to go through the wall of my uterus which involved me having to be kept in hospital and having 24 hours of intravenous antibiotics to prevent Sepsis.'
Ulcerative colitis 
'I was not taken seriously and talked down to. When I explained things I have tried to improve my condition (ulcerative colitis) i.e. diet changes, I was flatly told this would make no difference. There was no discussion about the stress I'd been under. I feel that the Dr tried to medicalise the issue and wasn't interested in other factors. Whilst the Dr is an expert in medicine, there was no recognition that I am the expert in me. The Dr did not try to find out about my background knowledge/understanding. I felt they assumed I had none and just prescribed medication, which as a result I have not been compliant with.'
ADHD
'I have ADHD which was only diagnosed 1 year ago. Symptoms in females differ greatly to males. It is only the male symptoms that most professionals are aware of. It is the same with other conditions in females such as PCOS, endometriosis. Perinatal mental health care remains poor. GP's training/knowledge of it is dire, therefore wrong advice is given. Private sector maternity leave policies massively impact on maternal mental health; maternity pay is so low that women have to return to work early, jeopardizing their mental health.'
Ectopic pregnancy
'My experience of when I had an ectopic pregnancy - my own opinions of what was happening to MY body were dismissed because they were the professionals and I was just upset I was losing my baby, but I was convinced there was something still not right. I may not be a medical professional but I am not completely uneducated and I do have a working background in health care. But at the same time, I had no clinical signs and was sent home and reassured that I was naturally upset and should miscarry within 2 weeks. Only thanks to the instinct of my mum who insisted I was seen again and thanks to an experienced and open-minded doctor who took blood tests and arranged a scan - I actually needed major emergency surgery. My mum had to sign a consent form to say I could have a hysterectomy if needed to save my life.'
Take part in our survey
If you have an experience with UK healthcare that you'd like to share, please fill out our survey. The more we learn from women, the more we are informed of how women's healthcare services need to change. Let's create a better future for women's health, together.
Make sure to follow Improving Me on Twitter, Instagram and Facebook - use the hashtag #WomensHealthMatters to join the conversation.